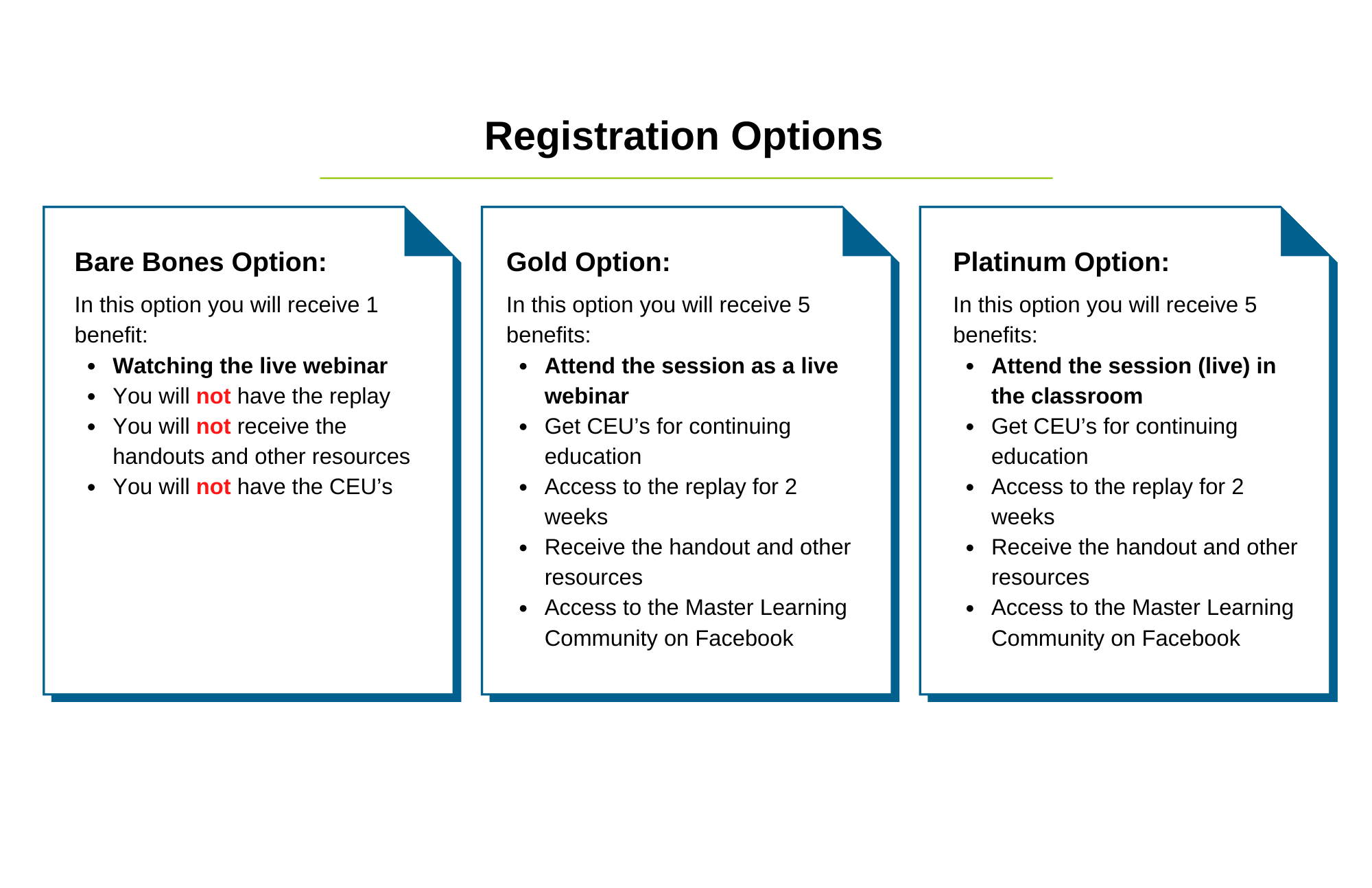 Arizona Trauma Institute has been approved by NBCC as an Approved Continuing Education Provider, ACEP No. 6677. Programs that do not qualify for NBCC credit are clearly identified. Arizona Trauma Institute is solely responsible for all aspects of the programs.
CE Hours Awarded: 6 Platinum & Gold Options only
Registration button is located at the bottom of the page.
---
Training Description
The session will begin with an overview of eating disorders and attachment theory, followed by a discussion on how trauma is related to the development of eating disorders with an emphasis on the role attachment trauma plays in the epidemiology of eating disorders. The last section will illustrate the steps necessary to prepare a client who suffers from trauma, attachment ruptures, and eating disorder symptomology for treatment. This section will include techniques for self-regulation, safety and stabilization, and psychoeducation. The session will conclude with an overview of potential next steps and treatment prioritization.
Learning Objectives
Participants will be able to identify factors to improve treatment outcomes for eating disorder clients.
Participants will gain a clearer understanding of attachment theory.
Participants will learn how to prepare eating disorder clients for treatment and potential trauma resolution.
Participants will learn about different assessment measures to increase efficacy of treatment.
Participants will be able to identify stages for treating complex cases involving eating disorders and trauma.
Participants will be able to identify several factors that contribute to eating disorders.
DISCLAIMER
Materials that are included in this course may include interventions and modalities that are beyond the authorized scope of expertise or license of professionals. As a licensed professional, you are responsible for reviewing the scope of practice, including activities that are defined in law as beyond the boundaries of practice in accordance with and in compliance with your profession's standards.
Additionally, many of the topics being taught would require supervision and/or mentorship is not included in this course.
CE Credits
Credits listed below are for full attendance of the live training.  Attendees will sign in upon arrival and after lunch.  At the end of the training, attendees will be given an evaluation to complete.  After completing the evaluation attendees will receive a certificate of completion for the training.
Arizona Trauma Institute does not issue partial certificates of completion.
NOTE: Credits do not include time for breaks or lunch.
CE Hours Awarded: 6 Platinum & Gold Options only
---
Presenter – Leah N. Miller, MC, LAC
Leah Miller is a skilled, multi-disciplinary therapist with a devotion to helping clients exceed their goals and thrive. Her approach draws on her extensive experience and training, and a true dedication to helping people transform. She received her Master's Degree in Counseling from Phoenix Seminary located in Scottsdale, Arizona.
Leah also holds a health coaching certification from the Institute for Integrative Nutrition and has trained with Dr. Leslie Korn, PhD in Nutritional and Integrative Medicine for Mental Health Practitioners. Leah is currently enrolled in a yearlong advanced training in Mental Health Nutrition. Leah is trained in Eye Movement Desensitization and Reprocessing (EMDR) and is also in her intermediate year of Somatic Experiencing Practitioners training, a three-year certification in somatic work—a body-oriented approach to healing trauma and other stress disorders.
Leah's work is underwritten by her holistic approach to meeting vital mental health and wellness objectives. She utilizes her dynamic background to help clients approach their goals through a mind-body-spirit paradigm, allowing them to transcend past limitations and create a foundation for lasting wellness. Leah weaves her knowledge of psychology, health, nutrition, and lifestyle choices with trauma resolution modalities such as somatic experiencing and EMDR to help people re-connect with their best selves and flourish.
---
IN-PERSON – PLATINUM OPTION
Event Location:
Arizona Trauma Institute
49 South Sycamore Street, Suite 2
Mesa, Arizona 85202
LIVE WEBINAR – GOLD OPTION
PLEASE NOTE: that you must participate in the Live Webinar on a computer, or laptop, NOT a phone or tablet. The system keeps track of each person attending the Live Webinar and how long they attended. Your attendance cannot be tracked on a phone, so it will appear that you did not attend, thus, you would not be eligible to receive a Certificate of Completion. In addition, you must attend for the duration of the Live Webinar to receive your Certificate of Completion.
---
By signing up for this course, you are opting in to receive our newsletter. You may unsubscribe at any time.