Don't ask what you want from life. Ask what life wants from you (Viktor Frankl).
There are several areas of life that one can grow and mature, but one that is often ignored is perceptual maturation. Long before I'm aware of others, I'm aware of me. How I perceive me determines how I perceive others. Here is the truth:
Until our perceptions grow up, it is likely our behavior, emotions, and thoughts will remain adolescent.
Until we become intentional, we will remain reactive.
What does perceptual maturation look like?
Intention reframes demands from others as moments for making mature personal choices. Own your moment and assume responsibility for you. Stop blaming others.
But, what if my choice brings unwanted consequences?
Intention shifts attention and attunement away from the outcome (consequences) and toward the process. True joy and happiness is found in the journey, and the myriad of surprises along the way. Stop trying to predict the future.
But, I've sacrificed and given more than my share?
Intention competes for opportunity while relinquishing entitlements to imagined rewards. What you have and where you are is because of choice, commitment, and staying the course. If you have it, then you earned it. If you don't like where you are, then move. No one owes you. Stop trying to collect.
But, I need to know that I'm worth it…
Intention means affirming your own self-worth through self-acceptance while relieving others of the burden of doing it for you. If you're dependent on others validating you, then every relationship will be threatening and possibly tormenting. Community isn't people co-existing, it is human beings sharing life, experiences, joy, sadness, laughter, and tears together. Community must be mutual and you'll never have it until you learn to show up with yourself. Stop being absent.
When each part is working properly, then the body grows so that it builds itself up in love (Ephesians 4:16).
---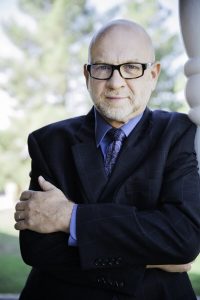 Roderick Logan, DPTh, CCTS, CFTP, FFTT
Senior Faculty at Arizona Trauma Institute and Trauma Institute International
Blog host of Trauma Informed Parenting
Trauma & Recovery Specialist Making Space to Heal
Dr. Logan has more than 30 years experience as a trainer and facilitator. He holds a Master's in Biblical Counseling and a Doctorate in Practical Theology.  His trauma certifications CFTP and CCTSF are with TII and IATP.  He is prolific at presenting transformative care principles and life skills for paraprofessionals, non-clinical caregivers and industry leaders desiring to change within their culture.  Roderick is proud to be part of a community of healers seeking to prevent toxic stress, raise awareness of Adverse Childhood Experiences (ACEs) and support trauma recovery and resiliency building.  As a trauma specialist, he works routinely with foster and adoptive parents, grieving families dealing with loss, and caregivers seeking to become trauma informed.